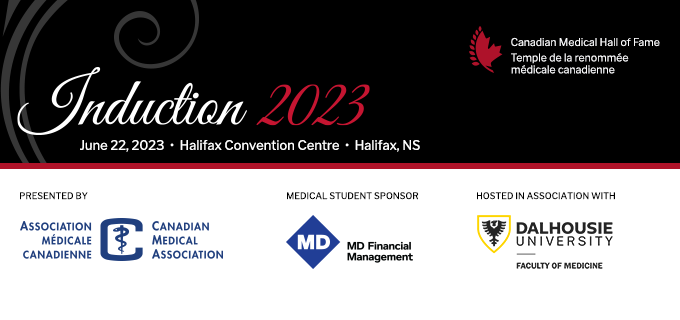 SIX OUTSTANDING CANADIAN LEADERS IN HEALTH JOIN CANADA'S MEDICAL HALL OF FAME
Halifax, NS – On Thursday, June 22, the Canadian Medical Hall of Fame (CMHF) induct six new Laureates whose leadership, integrity and contributions to medicine and health leadership have led to extraordinary improvements in human health. These trailblazers underpin Canada's role as a world-class leader in medicine and health science, and their outstanding accomplishments range from advancing standards and practices in aviation and aerospace medicine, to professionalizing midwifery throughout Canada.
Heather Hiscox, Host of Morning Live on CBC News Network, will serve as the Master of Ceremonies. The 2023 Induction Ceremony is presented by the Canadian Medical Association with Medical Student Sponsor, MD Financial Management Inc.
"We are pleased to recognize the countless accomplishments of these dedicated physician leaders," said Dr. Alika Lafontaine, CMA president. "The impact that they have had on their patients, their communities and the medical profession at large is considerable. Congratulations to these Laureates on their induction into the Canadian Medical Hall of Fame."
"It is a privilege to host this important ceremony here at Dalhousie," said Dr. David Anderson, Dean, Dalhousie Faculty of Medicine. "We are proud to celebrate the inductees for their unwavering dedication to medicine and the health sciences, and for their tireless efforts to improve the lives of others. Their hard work and commitment is making the world a healthier and happier place for all."
Pioneers in their respective fields, Canadian Medical Hall of Fame Laureates are role models and an inspiration to young Canadians to pursue careers in the health sciences. The new CMHF Laureates are:
The Late Stephen Blizzard, MD | Ottawa, Ontario 
Pilot, physician, decorated peacekeeper, who overcame systemic racism to become a much-honoured authority on aviation medicine.
Elaine Carty, CM OBC MSN CNM | Vancouver, British Columbia
Helped to promote legalization and professional recognition of midwifery throughout Canada.
Carol P. Herbert, CM MD CCFP FCFP FCAHS | Vancouver, British Columbia and London, Ontario
Innovative health care educator and mentor promoting equitable and accessible health care for all.
Jean-Lucien Rouleau, CM MD FRCPC FACC | Montréal, Quebec
Renown cardiologist instrumental in developing life-saving medication sacubitril/valsartan for treatment of chronic heart failure.
Nahum Sonenberg, OC PhD FRS FRSC | Montréal, Quebec
Discoverer of elF4E protein helping to establish the field of translational control and unlocking the potential of genetic research for medical advances.
Samuel Weiss, PhD FRSC FCAHS | Calgary, Alberta
Trailblazer in establishing neurogenesis research as a pathway to treatments for wasting diseases such as Parkinson's, Alzheimer's, stroke, ALS, and multiple sclerosis.
For more detailed bios and photos: https://cdnmedhall.ca/laureate-induction-ceremony
ABOUT THE CANADIAN MEDICAL HALL OF FAME
The Canadian Medical Hall of Fame (CMHF) celebrates Canadian heroes whose work advances health in Canada and the world and fosters future generations of health professionals through the delivery of local and national youth education programs and awards. This enduring tribute to our country's rich medical history is showcased on our virtual hall online at www.cdnmedhall.ca and in an exhibit hall in London, ON.
ABOUT DALHOUSIE UNIVERSITY FACULTY OF MEDICINE
Dalhousie Medical School teaches scientific excellence and humanity in medicine, facilitates leading health research, influences social and health policy, and helps drive the regional economy. An integral part of Maritime Canada since 1868, Dalhousie Medical School's success has always been linked to our relevance to the communities we serve.
ABOUT THE CANADIAN MEDICAL ASSOCIATION
The Canadian Medical Association leads a national movement with physicians who believe in a better future of health. Our ambition is a sustainable, accessible health system where patients are partners, a culture of medicine that elevates equity, diversity and wellbeing, and supportive communities where everyone has the chance to be healthy. We drive change through advocacy, giving and knowledge sharing – guided by values of collaboration and inclusion.
ABOUT MD FINANCIAL MANAGEMENT INC.
With more than 50 years of experience supporting physicians, MD Financial Management (MD) is the only national financial services firm dedicated exclusively to the financial well-being of Canada's physicians and their families. MD's unparalleled understanding of physicians' financial needs together with Scotiabank's deep banking expertise allows them to provide a robust suite of comprehensive financial services tailored specifically to physicians' needs and circumstances, including the uniquely co-created Scotiabank Healthcare+ Physician Banking Program. MD had more than $54 billion in assets under management as of January 31, 2023. MD Management Limited was the first of the MD Group of Companies to be founded, in 1969. MD Financial Management Inc. wholly owns or has a majority interest in its seven subsidiaries (the MD Group of Companies). It provides financial products and services, is the fund manager for the MD Family of Funds and offers investment counselling services. For a detailed list of the MD Group of Companies, visit mdm.ca.
CANADIAN MEDICAL HALL OF FAME MEDIA CONTACT:
Daria Destanli, Communications Coordinator | Canadian Medical Hall of Fame
ddestanli@cdnmedhall.ca