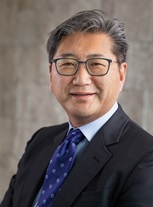 A renowned surgeon and inspiring leader Dr. John Yoo is the Dean of the Schulich School of Medicine & Dentistry, Western University. With a passion for teaching, research, and patient care, Dr. Yoo brings the right mix of values, knowledge, experience, energy and vision to effectively lead the School.
Born in Seoul, South Korea, his family immigrated to Canada and settled in Northern Ontario where John grew up. He completed his medical degree at the University of Toronto in 1991, where he stayed to complete his residency and fellowship training in head and neck oncologic and reconstructive surgery. He joined the Schulich School of Medicine & Dentistry faculty in 1997.
Prior to being named Dean, Dr. Yoo served as Interim Chair/Chief of the Department of Paediatrics, as Fellowship Director for the Department of Otolaryngology-Head & Neck Surgery, and as a Professor of Otolaryngology and Oncology. He previously served as Chair/Chief of the Department of Otolaryngology-Head & Neck Surgery for more than 11 years.
In his leadership roles, Dr. Yoo developed a reputation for making positive organizational change by creating key partnerships and developing collaborations, recruiting the best people, creating the right environment, and supporting teams by encouraging them to focus on a shared vision.
Dr. Yoo was instrumental in growing the Department of Otolaryngology-Head & Neck Surgery during his time as Chair/Chief. Under his leadership, the department established two translational research platforms, the Auditory Biophysics Lab and the Translation Head and Neck Cancer Research Group. As a surgeon, Dr. Yoo is internationally recognized for his innovative techniques for reconstructive facial surgery.
Today, in addition to his academic, leadership and clinical roles, Dr. Yoo serves on many regional, provincial, national and international committees and societies. He served as the Co-Chair of Cancer Care Ontario Head and Neck Cancer Disease site for the past 8 years, is the President-elect of the Canadian Association of Head and Neck Surgical Oncology and is an executive board member of the Canadian Society of Otolaryngology and the Asia-Pacific Society of Thyroid Surgery. He was the longest-serving Chair of the Canadian Chairs of Otolaryngology and the former Chair of Clinical Chairs at Schulich Medicine & Dentistry.
Fiercely committed to improving patient care, Dr. Yoo has led the development of standards of practice and care throughout his career. He has authored multiple treatment guidelines for Cancer Care Ontario including the Quality-based Procedures Clinical Handbook for Head and Neck Cancer Surgery for the Ministry of Health and Long-term Care.
The recipient of numerous awards and honours, Dr. Yoo has been consistently acknowledged for his teaching excellence. He has received multiple University Student's Council Teaching Honour Roll awards for undergraduate education, the Department of Oncology Award for Teaching Excellence, was twice the recipient of the Department of Otolaryngology Clinical Teachers Award, and in 2019 was awarded the inaugural Department of Paediatrics Postgraduate Advocacy Award.
A dedicated academic and clinician, Dr. Yoo has co-authored more than 120 peer-reviewed articles and book chapters. His research and clinical interests include head and neck cancer, thyroid and parathyroid, reconstructive surgery, and management of the paralyzed face.