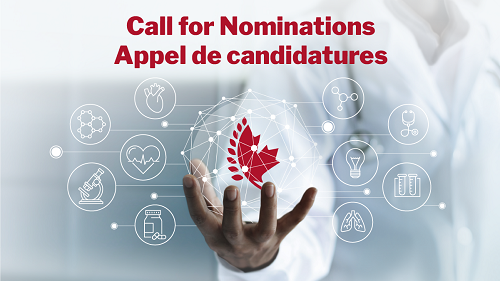 EQUITY & INCLUSION:
We recognize that diversity, equity and inclusion strengthen the health sciences, health systems and health care communities and leads to enhanced quality, social relevance and impact of health-related disciplines.

Throughout all its activities, the Canadian Medical Hall of Fame strives to engage and promote the active participation of individuals of diverse backgrounds, including those from historically underrepresented groups.  We actively seek a diverse pool of award nominations so that those honoured may reflect the diversity of our communities.
Canadian Medical Hall of Fame Laureates are Canadian citizens whose outstanding leadership, integrity and contributions to medicine and the health sciences, in Canada or abroad, have led to extraordinary improvements in human health.
Their work may be a single meritorious contribution or a lifetime of superior accomplishments. Pioneers in their field, they are role models who inspire young Canadians to pursue careers in the health sciences.
Laureates include worthy nominees from a variety of disciplines and from many diverse professions and roles including doctors, researchers, nurses, dentists, pharmacists, policy makers - to name only a few. Nominations of Canadians, living or posthumous, who meet the criteria from the many aspects of health are encouraged.
The CMHF recognizes that contributions deemed worthy of Laureate status evolve over time and differ across diverse communities, requiring that the selection process recognize excellence in the context of time and place.
Up to six individuals may be selected for induction annually; only one individual may be inducted posthumously each year.
The Canadian Medical Hall of Fame relies on the community to nominate candidates for induction. Annually, the CMHF Laureate Selection Committee - appointed by the board but operating at arm's length from the board - reviews all nominations received. Inductees are selected from the pool of nominees that includes those nominated this year and the previous two years. Unfortunately, the current nomination pool is not as diverse as it should be, nor is it reflective of current health leadership in Canada.  Please help us increase the diversity of CMHF Laureates through more nominations of individuals who identify as female or non-binary,  and/or who are Black, Indigenous or People of Colour. At this time we also welcome nominations of individuals who played critical, leadership roles in Canada's response to the COVID-19 pandemic.
Canadian citizens from across health professions within Canada and across the globe may be recognized for their work in one or more of the following categories:
Leadership in building excellence in health for Canadians and the world - including
Excellence in health education and the development of health professionals in Canada Creation or development of organizations or institutions that enabled health care improvement
Political leadership and/or activism that facilitated major changes in health or health care
Advancement of the profession or public awareness of a health issue(s) through oral and written communication expertise and media
Some of the laureates in the Canadian Medical Hall of Fame in this category include:
Thomas A. Dignan MD (2022), William Cochrane, MD (2010) | The Honourable Thomas C. Douglas (1998) | The Honourable Marc Lalonde and Maurice LeClair, MD (2004) | Arnold Naimark, MD (2013) |  Bette Stephenson, MD (2013) | May Cohen, MD (2016) | Jacalyn Duffin, MD PhD (2019)
Leadership in health promotion, illness prevention and care - including
Exemplary patient care over a lifetime for particularly disadvantaged, remote, or underserved populations, often denying one's own self interest and in the service of others,  thus creating a 'legend' of validated, amazing stories of professionalism
Outstanding, widely recognized contributions to public and population health and/or health promotion
Evidence of humanitarianism both within and outside the profession is likely prominent
Research may or may not be an important part of their story of accomplishment
Some of the laureates in the Canadian Medical Hall of Fame in this category include:
Annette O'Connor PhD (2020), Leonora Howard King MD (2000), Wilfred Grenfell MD (1997), Ian McWhinney MD (2006), Robert Salter MD (1995), Lucille Teasdale-Corti MD (2001) Michael Bliss PhD (2016), Balfour Mount MD (2018) James A. Dosman MD (2019)
Leadership in research with national and international recognition for a scientific contribution - including
Innovative ideas and hypotheses, observations and experiments of critical significance to health science; definitive clinical trials, implementation research or leading scientific advances.
Possibly an outstanding single discovery but more likely a lifetime of scientific endeavour with peer approval through journal publications with substantial impact
Likely recognized by other honorary societies such as the Canadian Academy of Health Sciences, the Royal Society of Canada, The Gairdner Foundation etc.
Some of the laureates in the Canadian Medical Hall of Fame in this category include:
Henry Barnett MD (1995), Frederick Banting MD (1994), Charles H. Best MD PhD (1994), Hon. Sylvia Fedoruk MA (2009), Harold Johns PhD (1998), James Till PhD, Ernest McCulloch MD (2004), Maud Menten MD (1998), Calvin Stiller MD (2010),  Lap-Chee Tsui PhD (2012) Mark Wainberg PhD (2016) Connie J. Eaves PhD (2019)
Continue with details about how to submit a nomination