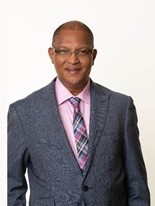 Lehana Thabane is a Professor of Biostatistics and Associate Chair of the Department of Health Research Methods, Evidence, and Impact, an Associate Member of the School of Nursing and Rehabilitation Science, and Departments of Pediatrics and Anesthesia, as well as a Senior Scientist with the Population Health Research Institute (PHRI) at McMaster University.
As a research methodologist, Lehana's research covers a wide spectrum of areas such as clinical trials, evidence-based medicine, research ethics, systematic reviews, and conjoint analysis of patient preferences for health services. Lehana provides statistical leadership in studies of aging population health research, clinical research, health services research and outcomes research. He is currently working on a number of investigations in long-term care evaluation, interventional pain management and transitional care, stroke, frailty, and multimorbidity.
His commitment to educating and mentoring has granted him winner of the President's Award for Excellence in Graduate Supervision 2016 and the FHS Excellence in Graduate Supervision Award for 2012 at McMaster.