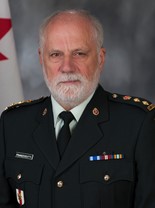 Professor Francescutti is currently an emergency/preventive medicine physician at the Royal Alexandra Hospital and the Northeast Community Health Centre in Edmonton, Alberta. As a professor in the School of Public Health at the University of Alberta, he teaches graduate courses in transformational leadership, advocacy and public health. Louis was selected as one of Alberta's Top 100 Physicians of the Century by the Alberta Medical Association/College of Physicians and Surgeons of Alberta and he was also awarded the Alberta Centennial Medal from the Government of Alberta in 2005. In 2011, Alberta Venture selected him as one of Alberta's 50 most influential people. In 2012, he was awarded the Queen Elizabeth II Diamond Jubilee medal.
From 2010-2013, he served as the President of the Royal College of Physicians and Surgeons of Canada and in 2013-2014 he then became the President of the Canadian Medical Association. He is the Honorary Colonel for 1 Health Services Group of the Royal Canadian Medical Services based in Edmonton. In 2017, he was awarded a Military Meritorious Service Medal from the Governor General of Canada at Rideau Hall. He is a fellow of the Royal Colleges of Physicians of Ireland, London, Edinburgh and Glasgow. Currently, he is developing a Homeless Transitional ICU to address the immediate needs of our society's most vulnerable individuals – homeless patients in our emergency departments.
A recognized storyteller Dr. Francescutti has delivered over 1,500 presentations worldwide to a variety of diverse audiences – from industry to governments and to the public. Dr. Francescutti and his colleague Dr. Robert Barrett have just coauthored a book entitled HARDWIRED: How our instincts to be healthy are making us sick, soon to be published by Springer (Switzerland). An amateur stonemason and timber framer, he lives with his family on an acreage in Sherwood Park, Alberta.